Tallinn Motor Paintball
67€
Price per
person from:
Minimum group size 12
Please enquire if your group is smaller
Special offer
2 Complimentary Club Entrances
Motorised Paintball Action for stag parties in Tallinn
In addition to the normal Tallinn paintball activities we have a motor paintball package available in Tallinn, Estonia.
A motorised paint balling vehicle (as seen on picture below) with a driver will be provided for the paint balling action in Tallinn, Estonia.
There are different Tallinn Motor paintball packages available - 200, 300 rounds.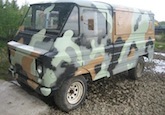 You can see other Tallinn Paintball Packages here.
---
Price for Motor Paintball (1 vehicle) in Tallinn - 200 balls, transfers & equipment - 67 eur per person
Price for Motor Paintball (1 vehicle) in Tallinn - 300 balls, transfers & equipment - 75 eur per person
Price for Motor Paintball (3 vehicles) in Tallinn - 300 balls, transfers & equipment - 89 eur per person
---
What's included in the price
Equipment Rental
Instructor
Return transfers